Enhance your Website & your brand
Webpress
Designing stunning websites, one pixel at a time
Our WordPress expertise allows us to create websites that are not only beautiful but also highly functional. We understand the importance of user experience and ensure that every website we create is optimized for speed and performance.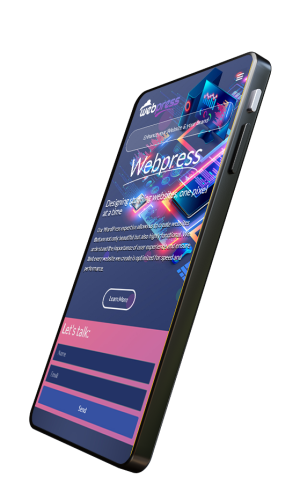 Unleashing the power of WordPress for your business needs
Our web design agency is dedicated to creating innovative and dynamic websites using the power of WordPress. We specialize in designing custom-made plugins and themes that enhance your website's functionality and aesthetics, creating a unique online presence for your business.
Our team of experienced designers and developers work closely with clients to understand their unique needs and business goals, ensuring that every website we create is tailored to meet those specific requirements. We take pride in our attention to detail, crafting websites that are visually stunning and intuitive to use.
We believe that every business deserves a professional and modern online presence, and that's why we offer affordable and customized web design solutions. Whether you're looking for a simple brochure website or a complex e-commerce platform, we've got you covered.
We specialize in constructing secure and SEO-friendly websites using the most popular content management system (CMS) platform available. Our team leverages the expertise of top WordPress builders like Elementor Pro to develop custom-coded websites that meet the unique needs of each client.
We're experts in delivering professional WooCommerce development services. Our team is highly skilled in building secure e-commerce websites using WordPress, ensuring that each website we create is user-friendly and optimized for better conversion rates and security for your data.
We offer a unique service of creating multiple sites for PBNs with unique and custom designs. We ensure that each PBN website is tailored to their brand and niche. Additionally, we understand the importance of discretion in the PBN industry and can guarantee complete confidentiality in all of our projects.
Introducing the ultimate app creation service for your website. With our service, you can provide your clients and users with a local application that mirrors your website or control panel, allowing them to easily access important information and perform tasks without navigating through multiple pages.
Convert Website To WordPress
Elevate your HTML/CSS/JS site with our expert service that converts any site to WordPress. Leveraging Elementor Pro, we'll transform your static site into a dynamic, customizable WordPress site. Utilize our service to unlock your website's potential and enjoy a user-friendly experience. Contact us now to begin your website transformation.
We believe that every website should not only look great but also function seamlessly. That's why we specialize in building websites with pure code. By crafting custom websites from scratch, we're able to provide our clients with complete control over the design and functionality of their online presence
Custom-made plugins are an essential component of any successful website. They are designed to add specific features and functionalities that may not be available in standard plugins. With custom-made plugins, businesses can provide unique solutions tailored to their specific needs.
Stories From Webpress Happy Customers
Working with this web design agency was a fantastic experience. Their team of designers and developers really took the time to understand our business and our goals, and they delivered a website that exceeded our expectations. The custom-made plugins and themes they created were exactly what we needed to enhance our website's functionality and aesthetics.
I was blown away by the professionalism and expertise of Webpress. They guided us through every step of the website development process, and their attention to detail was exceptional. The website they created for us was not only visually stunning but also incredibly fast and user-friendly. I would highly recommend this agency to anyone looking for a custom WordPress website.
The team at Webpress is simply amazing. They were able to take our vision for our online store and turn it into a reality. Their WooCommerce development services were top-notch, and they really understood how to create a secure and user-friendly e-commerce platform. We're thrilled with the final product and can't thank them enough for their hard work.
"I can't recommend Webpress enough. Their ability to create websites using pure code is truly impressive, and it allowed us to have complete control over the design and functionality of our website. The team was highly responsive to our feedback and made sure that we were happy with every aspect of our website.